How Do We Price Our Builds?
You might be wondering how much it would cost to have your custom CTC designed and built?
We believe we have a unique and simple approach to this question.
Our labor cost is based on the size of trailer.
We will work with you to determine the size trailer you need, or you can provide us with the trailer you have, we are flexible in our approach, after all, this CTC is all about YOU!
Once the size is determined, we offer a straight forward pricing schedule so you know what the labor will cost you up front. You pay for all materials, plus 10% to cover picking them up, unless you deliver them to us.
Pricing
Labor cost is based on size of the trailer, we charge $20.00/SqFt, plus a $450.00 Start Fee.
The Start Fee is due at signing
Example, let's say you have a 6x12 enclosed cargo trailer you would like to have converted to your ideal camper;
6x12 = 72 Square Feet @ 20/SqFt = $1,440.00 plus $450.00 for a total cost of $1,890.00 with you providing the trailer and all materials to us.
Should you opt to have us buy the trailer** and/or materials, simply add 10% to whatever the cost is of those items that we purchase and provide.
**An additional deposit of 50% of the cost of the chosen trailer will be required before purchase of a trailer.
Project Completion
We also include
Certified Automated Truck Scale Certificates
both before and after the build so you know exactly what your are hauling for peace of mind.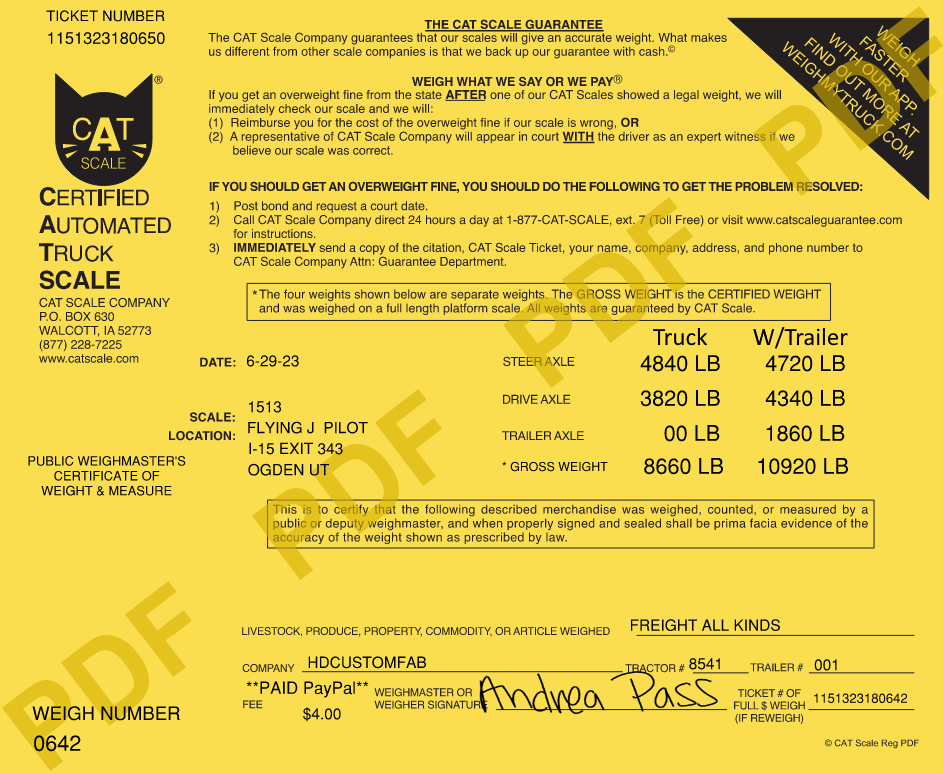 Delivery
We can also provide delivery to you of your finished CTC trailer anywhere in the lower 48 states for a simple fee, with current fuel costs, delivery is $1.25/mile from our shop to your chosen pickup spot.
We can deliver any type of trailer, bumper pull, gooseneck, or 5th wheel.